Mini excavator or Micro excavator from Japan
Recycle market is increasing worldwide not only developed country but also the third world country. Many type of Recycle products are exported to the world from Japan and we are specialized in cars and used construction machines such as mini excavators and micro excavators. Please feel free go through this web site about mini excavator, and if you have any questions about mini excavators, please feel free to drop us a line, e-mail is 24hours and we try to reply as soon as possible
Japan-tradings.com Our main businesses are to export used Japanese cars and construction equipment. Especially,Japanese mini excavators or micro excavators. Those mini excavators are very popular and convenient equipment not only in Japan but also many other countries as they are very small size.
We purchase those Japanese mini used excavators from auctions and other channels such as dealers and private.
Our policy is "Deliver the best service & product". Always try to challenge and improvement to achieve our policy for dealers and end users. Some products are sold after maintenance some others are sold "as it is" condition, depends on its demands.
Mini excavator auction in Japan
If you would like to buy any machines from Japanese construction auction,please feel free contact us. You can find famous brand such as CAT,HITACHI,IHI,KOBELCO,KOMASTU,YANMAR,KUBOTA,SUMITOMO at auction. As long as you can prepare appropriate deposit for bidding, we are happy to assist your purchasing and shipping. There are some auction site in Japan. Also, if you are in Japan and would like to purchase machines, then we come along with you to support your purchase. However, construction machine auction is not daily basis like used car auction, so please ask auction open time. Regarding purchasing machines include mini excavators from auctions please feel free drop us a line or contact through Skype.
Mini excavator Shipping from Japan
Like used cars, mini excavator is put into a boat, so called RORO or called Car Carrier boat. Also, We put mini excavator into a container, 20feet and 40feet, depends on number of units. Some countries will be take longer time on a water than some countries and so freight fees. We can deal FOB, CNF,CIF, EX YARD, EX go down, however payment is fully paid before shipping.
About Mini excavator and backhoe in Japan
We deal especially, mini sized excavators in Japan. It is very convenient for working small space. Excavator are used for not only construction site but also, gardening, dismantling, by changing attachment excavator can be used for many ways.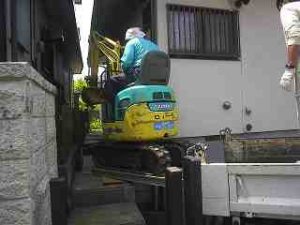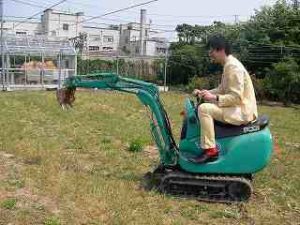 mico size Komastu excavator
Check point when you trying to buy mini excavator
Mini excavator is a very popular where in construction site and private garden and so on, not only digging holes but also by changing attachment it can be grabbing and breaking. If mini excavator is a brand new, it will be a very expensive. So we deal used mini excavators as a big merit to save big money. But it may involved risks for used ones.So now we see a check point when we try to buy used mini excavators.
excavators are one of very durable machine but the same time, it is used heavily so it needs a maintenance , Also excavators may be very old and working hard very long time, it need to be cheeked many points before purchase. here some points to be checked.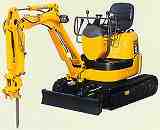 May be better avoided some excavators used as breaker.
Working hours
May be this indicate the condition of used excavator but it should not be rely on only working hours. Check arms and attachment is not be shaky. Also better check if it is very rusty or not.
Oil leaking from Cylinders
Some times it will be very expensive to repair. Check oil leaking from hydraulic pressure system and pipes.
Caterpillars made by Synthetic rubber
Caterpillars made by Synthetic rubber has to be changed if it is damaged, life time may be generally 1500Hours and about 2000US new one. If you would like change it to new one, please ask us about it.
Check types of attachment installed
Attachment can be changed for a working purpose, such as gardening, digging field, demolishing and so on.
Bucket
Breaker
Cutter
Fork
Crumshell
Orgerdrill and so on
Please find appropriate attachment for your mini excavator.
Electricity systems.
Start engine and check how smooth engine starts.
Mini excavator FAQ
Q:I would like to drive mini excavator. Operation is different from brand to brand?
A:Operation is different from band to brand, there are 4 patterns. However; you will be a good operator in 2-3hours, very easy. Some mini excavator has lever to change operation mode. If you drive mini excavator the first time, Better try to start slowly from low rev Engine mode, and see which way body-parts move. Please be careful, mini excavator is not stable, easy to fall side and when you try to digs hole in your garden, please be careful some pipes are buried in the ground.
Q:My Komastu mini excavator, Engine starting but rough idle
A:A rough idle can also be caused by a problem with many reasons. Main 3 check points for this are Fuel, Pressure and Spark. Please check fuel injection pump and sensors.
Q:My mini excavator, caterpillar is easy to come off. There are some gaps gear and linkage. The gear looks worn out. If I use bigger size gear, may be good fit to caterpillar. May be caterpillar is loosen so need more high tension for caterpillar ??
A:Reason for easy come off is sprocket gear worn out. Caterpillar link part worn out and so on. Sounds there is a gap between Linkage and Gear,may be need a welding the gear of sprocket. Or need to change sprocket to new one. About linkage, depends on how bad worn out, but may be , you can take one linkage from caterpillar. Also, as you say, need more tension for a caterpillar so that caterpillar stay with sprocket gear. I recommend bring mini excavator to a local service.